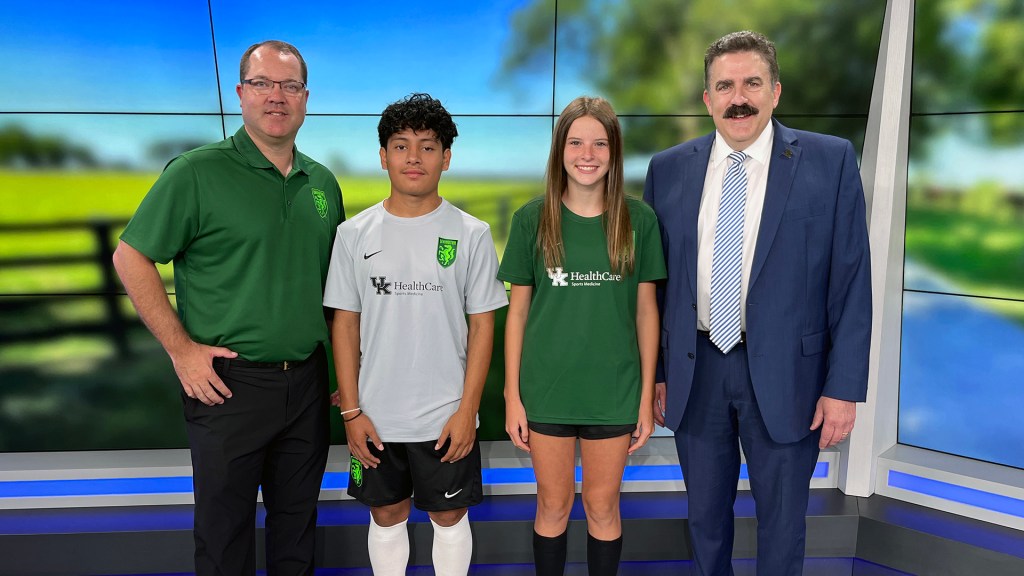 LEXINGTON, Ky. — UK HealthCare, the hospitals and clinics of the University of Kentucky, is set to become a primary sponsor with Lexington Sporting Club after signing a five-year partnership.
As Lexington Sporting Club continues to develop its youth and professional teams as well as its facilities, UK HealthCare will be integrated each step of the way, notably as the official healthcare provider and first ever front of kit sponsor.
The sponsorship covers kits throughout each level of the club: from the youth teams to the USL Academy and League One sides, beginning with the upcoming seasons. The youth uniforms will be seen on pitches as soon as this fall, while the professional kits will be revealed later this summer.
UK HealthCare's contributions will go beyond the logo on the jersey. Lexington Sporting Club players will have access to premier care through its sports medicine and orthopaedic services.
UK Orthopaedic Surgery & Sports Medicine prides itself on empowering Kentucky athletes and includes world-renowned, board-certified orthopaedic surgeons and specialists who are consistently named to the "Best Doctors in America" list. Because their providers participate in clinical trials and research studies, patients can experience groundbreaking care options from leaders in the field of orthopaedics. In addition, UK HealthCare's Kentucky Children's Hospital ranks in the top 50 in the country for pediatric orthopedic care by U.S. News & World Report.
"UK HealthCare is an established, trusted community member, and was at the top of our list when looking for potential partners. This is truly a landmark partnership for our club," Bill Shively, majority owner of Lexington Sporting Club, said. "We're proud to have UK HealthCare on the front of our kits, and we're appreciative of their belief and buy-in as we continue to grow. It's an exciting time to begin this relationship as we begin to move closer to the youth seasons this fall our USL League One team hitting the pitch in 2023."
"UK HealthCare is excited to be one of the primary sponsors and exclusive Sports Medicine health care provider for Lexington Sporting Club – from the youth teams to the professional athletes seeking world class care," said Mark F. Newman, MD, University of Kentucky executive vice president for health affairs. "This endeavor is an incredible investment for our community and an opportunity for UK HealthCare to continue to serve athletes of all ages."
Other benefits for UK HealthCare include significant brand exposure across Lexington Sporting Club's facilities and digital channels, as well as branding on all replica shirts.
UK HealthCare has been a mainstay in the region for more than 60 years and has "more than 80 specialized clinics, 140+ outreach programs, as well as a team of more than 10,000 physicians, nurses, pharmacists and patient care providers."
To learn more about UK HealthCare, click here.
Lexington Sporting Club will have more information to come about its training kit sponsor in the coming weeks.
Follow the club on Twitter, Instagram and Facebook, and learn more about the youth club here.