Lexington Sporting Club Youth Complex
See below for important information regarding our LSC Youth Complex:
Location: 250 Doe Run Trail, Lexington, KY 40509

Please use Waze and Google Maps for directions.
Apple Maps does not currently recognize this address.
For Apple Maps Users: please use 5354 Athens Boonesborough Road, Lexington KY 40509

Complex Entrance

Enter from Athens Boonesboro, take a hard left, and there will be cones that guide you to the paved parking lot.
Please only park on the asphalt.
Please stay on the designated road for access to the parking lot; do not deviate from this road.
Field numbers will be posted on each field. Please refer to the map below for reference.

Portable restrooms are available.
Players need to bring their own water to training and games at the complex.
Complex Rules

Players and families must stay in the designated areas – stay off the dirt, piles of rock, construction equipment, etc.
Stay on gravel or paved pathways and adhere to any signage.
Currently NO pets are allowed at the facility.
Visits and usage of the complex outside of your scheduled game times are NOT permitted.
NO chewing gum, smoking, or chewing tobacco.
Only players and coaches are allowed inside the field area. All parents, siblings, and spectators must stay outside of the chain-link fence.
All Trash must be picked up and discarded into the containers after each match. 
A full list of complex rules can be accessed here: https://acrobat.adobe.com/link/review?uri=urn:aaid:scds:US:47f833e6-ea3b-32b7-abc8-02932024d1da

Weather

If inclement weather occurs, a notification will be sent out ASAP via PlayMetrics and Social Media. Please wait for updates before reaching out.
If lightning is detected 8 miles away, players will report to cars for a 30-minute delay.
Notifications will be sent via PlayMetrics and Social Media as well as an air horn will be utilized at the complex.
Referees may also delay or cancel games due to weather.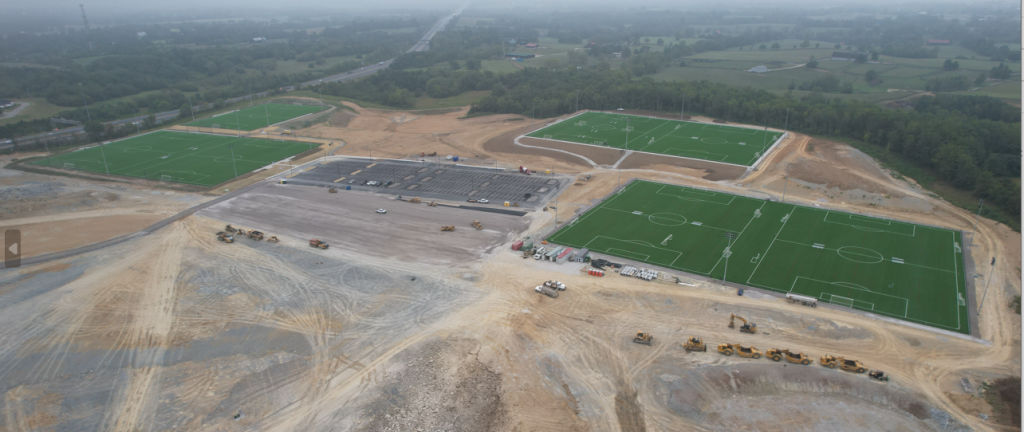 Field Maps
Below is the field layout for the 2023-2024 season.