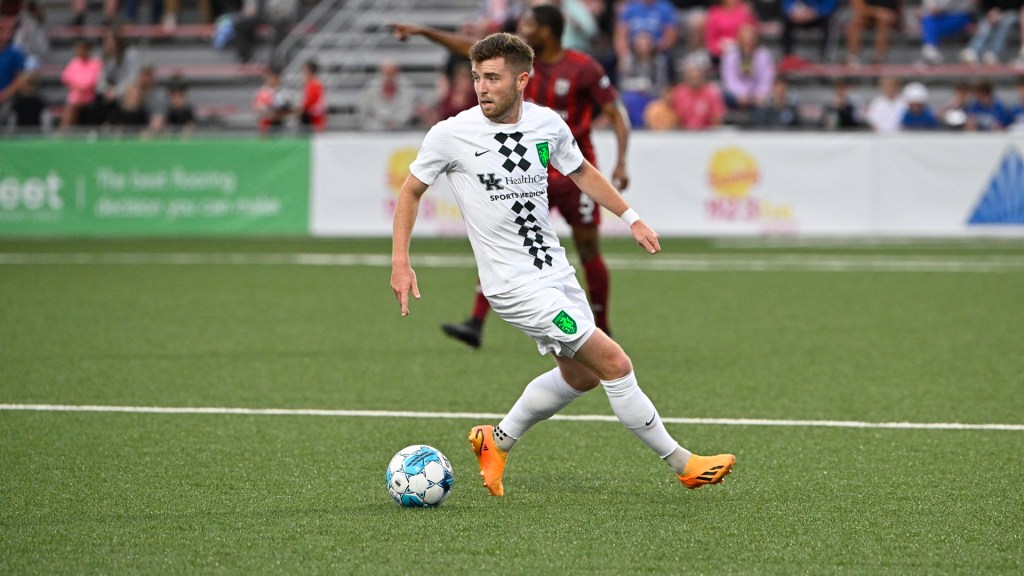 LEXINGTON, Ky. – Lexington Sporting Club is set to hit the road for an away fixture on Saturday, traveling to Statesboro, Ga., for a rematch against Tormenta FC. Kickoff at Tormenta Stadium is scheduled for 7:30 p.m. EST.
Lexington SC (2-5-3, 9 points) is coming off a 2-2 draw against Northern Colorado Hailstorm FC that saw Ates Diouf score the first brace in club history. The club is currently 12th in the league standings.
South Georgia Tormenta FC (4-5-2, 14 points) is coming off a 1-1 draw at Greenville Triumph SC and is currently 6th in the league standings.
TUNE IN:
The match will be streaming live on ESPN+.
For in-game stats, head to the Match Center.
GAME NOTES
Lexington SC is still in search of its first road win of the season, having recorded all of its points at home thus far.
Traveling to Statesboro, Lexington SC is set to take on one of two clubs it has successfully recorded a win over and will be hoping to repeat the magic on Saturday.
Nico Brown and Owen Green were the goalscorers in Lexington's win against Tormenta FC on April 15, meanwhile Ates Diouf erupted on Saturday, scoring the first brace in club history and being a close offsides call away from a hat trick and game winner.
Lexington SC is second in the league in big chances created with 21 big chances thus far, just five behind league leaders North Carolina FC and tied with Tormenta FC.
Two Lexington SC players are likely to eclipse 1,000 minutes played this season with the club's first signing Kaelon Fox sitting at 989 and team captain Charlie Machell sitting at 927.
Jackson Khoury is the man to watch for Tormenta FC. Khoury has scored a team-leading three goals so far for the reigning league champions. He was also the goalscorer in Lexington's 2-1 win over the club in April after a penalty.
About Lexington Sporting Club
Lexington Sporting Club is a U.S. Soccer professional soccer club competing in USL League One (U.S. Soccer third division men's professional soccer), and in USL Super League (women's professional soccer launching in 2024). The two professional teams are the pinnacle of the soccer ecosystem in Lexington that features more than 1,400 players within its youth and academy systems. Lexington SC in the process of building the club's formal stadium, performance center and training fields.