Professional soccer is here in central Kentucky.
WHO WE ARE
Lexington Sporting Club is a professional and youth soccer club, whose goal is to connect the community through the world's game. The professional men's team is in its inaugural season in USL League One, competing against clubs from around the country. In 2024, Lexington's women's professional team will launch, meaning Lexington SC will have fully formed player pathways from U7 through the pro ranks for both male and female athletes.
The Club's ecosystem features more than 1,400 players within its youth and academy systems, making up over 100 teams competing in local, regional and national leagues. Lexington SC is fully invested in player experience, and has developed its pre-professional route through inclusion in the USL Academy, Girls Academy and other elite youth platforms, as well as USL W League and USL League Two (in 2024).
Lexington SC in the process of building the Club's formal stadium, performance center and training fields. A seven-field, state-of-the-art complex off of Athens Boonesboro Rd. is set to open in summer 2023.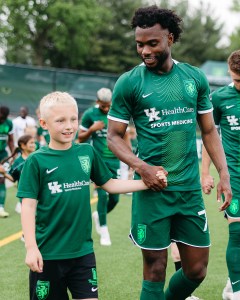 ABOUT USL LEAGUE ONE
Since its launch in 2017, United Soccer League's (USL) League One has quickly become the fastest-growing professional soccer league in North America. USL League One aims to bring professional soccer to fans in communities across the country and currently comprises 11 teams for the 2022 season.
Competing in communities with populations between 150,000 and one million residents, League One has brought the professional game to millions of people who previously had no access to a local professional soccer club. As the nationally-sanctioned third division of American soccer, League One is focused on launching new clubs in diverse markets that possess strong local ownership groups, a proven appetite for the sport, and stadiums that properly showcase soccer's unique ability to unite communities and use the sport as a vehicle for good.
As part of the largest professional soccer organization in North America, League One benefits from the USL's growing global reach in several ways, including USL Productions, the organization's cutting-edge broadcast and production facility established in 2015. Every League One match is shown live nationally on ESPN+, making the league's high standard of professional soccer visible to fans around the country.

Based in Tampa, Fla., the USL supports its clubs through a dedicated staff of more than 60 executives in vital business areas including – Broadcasting, Sponsorship, Communications, Competition, League Operations, Merchandise Licensing, Team Services and more.
Through League One, the USL will continue to lead the future growth of the 'beautiful game' in North America by cultivating and encouraging authentic local support for its clubs and helping those clubs to become beloved resources in their communities.