2023 Season Ticket Pricing & Payment Plans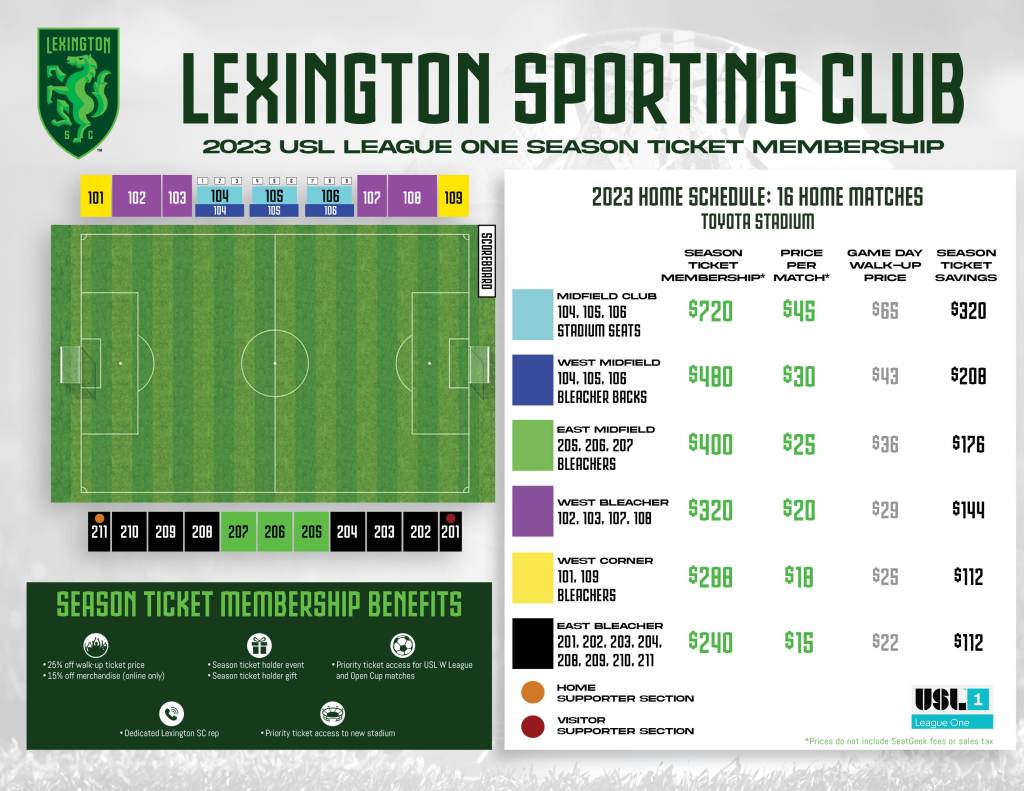 TICKETING FAQs
Where are home matches being played?
I am a season ticket deposit holder. What's next for me?

You should have received an email explaining the start of the ticket conversion process. If you have not received anything, please check your spam folder first, then email tickets@lexsporting.com.
When will single match tickets become available?

Single match tickets will be available at a later date while supplies last.
I'm on the waitlist. When will I be able to purchase tickets?

Waitlist accounts will be notified when the window to purchase is open. It will be following the deposit holders' window but prior to public sale, and will be released in the order in which you signed up.
Do season ticket holders get any advantages or extra benefits?

Lexington Sporting Club will offer extra benefits to our season ticket holders. Those benefits include, but are not limited to:

25% Off Walk Up Price
15% Off Merchandise (Online Only)
Dedicated Lexington Sporting Club Ticket Representative
Season Ticket Holder Event
Season Ticket Holder Gift
Priority Access to New Stadium
First Option for Same Seat at W League Matches
Where will supporter groups sit? How do I purchase tickets to the supporter section?
I'm interested in bringing a group to a match. How can I purchase group tickets?
I'm interested in premium tickets. Where can I find more information and pricing?

We anticipate having premium ticket information released in the coming weeks.
When will USL W League tickets be available?

For USL W League tickets, join the waitlist linked here. During the seat selection process for the men's professional team, you will be able to identify your interest in W League tickets. Click here for information on USL W League pricing.
My question is not on this list, how can I get in touch with a representative?

Please email your questions to tickets@lexsporting.com and a member of our team will respond as swiftly as possible.