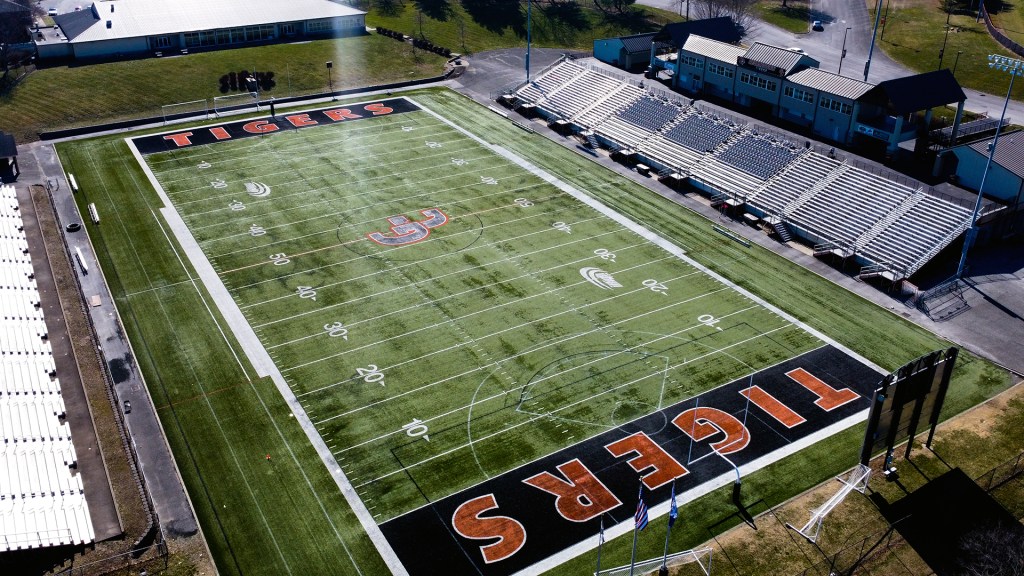 GEORGETOWN, Ky. – Lexington Sporting Club is pleased to announce the club has finalized a multi-year partnership with Georgetown College for Toyota Stadium to serve as the professional club's temporary home venue beginning with the 2023 season while the club builds its own stadium.
The home opener is April 8 against Forward Madison at 7 p.m..; the full schedule is linked here.
"It was important for us to find the right home for 2023, and we could not be more pleased with our partnership with Georgetown College," said Bill Shively, principal owner of Lexington SC. "There are a lot of variables to consider when looking for a home while we pursue our own soccer-specific stadium; we want to provide a fan-friendly atmosphere and need to ensure we supply a professional environment for the team." 
The 5,000-seat stadium is home to Georgetown College's football, soccer and lacrosse teams and has served as a hub of community activity for years, featuring state and local soccer championship events. Previously, the stadium served as the longtime home of the Cincinnati Bengals' Summer Training Camp.  
"By partnering with Lexington SC, Georgetown College is not only able to offer a first-rate athletic experience for our student-athletes but also bring professional sports to Scott County," said Dr. Rosemary Allen, Georgetown College President. "The economic impact for the local community will be a significant benefit for the region and for youth soccer players since LSC and GC will partner to offer summer soccer camps. We look forward to the many opportunities students, athletes, families and the community will enjoy by having Lexington SC at Georgetown College."
In preparation for the club's first season at Georgetown College, Lexington SC will install multiple facility updates, most notably a new state-of-the-art artificial turf field, which replicates the product installed at the National Football League's Miami Dolphins training facility. The Matrix Helix turf provides athletes of all ages with a safe surface and relief from the heat, as the field features EcoTherm infill which can reduce the surface temperature of the field by nearly 30 degrees.
The new field at Georgetown College replicates Lexington SC's new seven-field complex located on Athens Boonesboro Rd. The $20 million facility will serve as the home for the club, including its 1,400 youth players, as well as a destination for future regional and national sporting events. The first three fields of the complex are scheduled to open within 60 days, with the remainder of the facility to be completed by the end of spring.
The collaboration extends beyond the field of play as Georgetown College and Lexington SC will integrate the professional club into the college's Sports Management curriculum, by providing the opportunity to invite club executives into the classroom, students to gain experience through internship opportunities, and more.
"This partnership sends a signal that Georgetown College is a destination for athletics and the broader community. Throughout this process, Lexington SC has been easy to work with, ensuring that this project would happen by making their leadership team available. This partnership will allow us to install the same playing surface that is located in SoFi and AT&T stadiums in the NFL. I want to also thank the Georgetown College Board of Trustees for their support of this collaboration," said Brian Evans, GC Vice President for Athletics.
Lexington SC kicks off its inaugural professional soccer campaign at One Knoxville in Knoxville, Tenn., March 18, followed by a trip to Cary, N.C., to play North Carolina FC April 1.
Ticketing details for season ticket deposit holders will be sent via email later today, and information for those on the waitlist will follow at a later date.
Fans may still join the season ticket waitlist prior to tickets going on sale to the public by following this link.