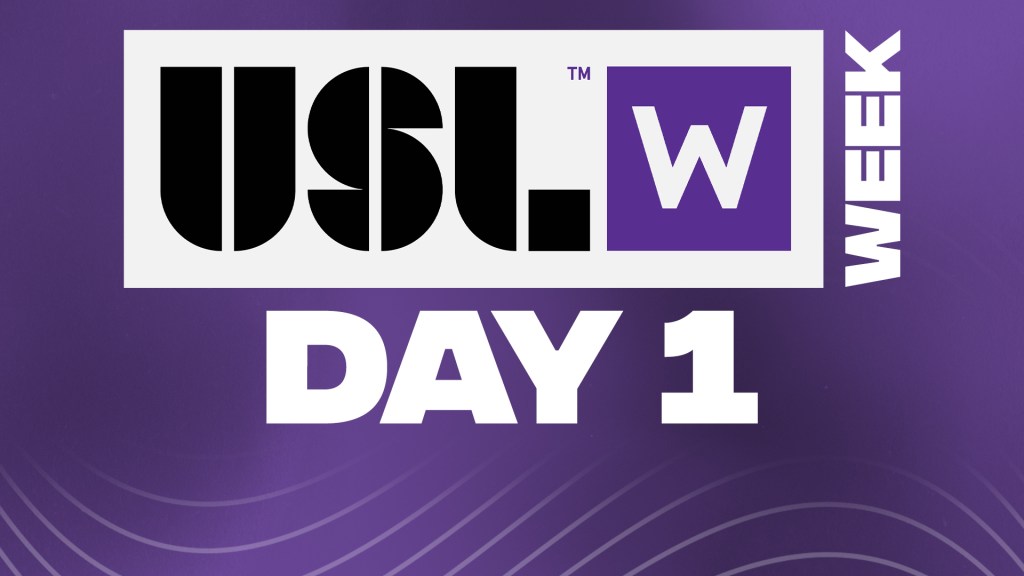 LEXINGTON, Ky. – Lexington Sporting Club announced the first six members of its inaugural United Soccer League (USL) W League squad Monday, with each addition pending league and federation approval.
The six players named kicked off the Club's "W League Week" in which it will release the entire roster over the span of five days.
Brooke Dawahare, Kaela Dickerman, Sarah Gorham, Tameir Grosvenor, Marz Josephson and Kailey Utley make up Monday's roster announcements.
The USL W League is the nation's premier pre-professional women's platform, and Lexington SC's roster will feature top collegiate and prep players from across the country. Alan Kirkup serves as Lexington's USL W League head coach.
The inaugural match is May 10 from Toyota Stadium in Georgetown, Ky. Fans can purchase tickets to support the USL W League here.
More about each player can be found below:
Brooke Dawahare – Midfielder
Social media: Instagram – brooke_dawahare | Twitter – brookedawahare
Hometown: Lexington, Ky.
Previous Team: Lexington Sporting Club
Dawahare is currently a junior at Lafayette High School in Lexington, Ky., and is already committed to play collegiate soccer. She has accumulated many accolades across her career including being a part of the United States U16 Youth National Team player pool and being named to the KHSAA All-State First Team in 2021 and declared 2021 11th Region Player of the Year. Dawahare is most excited about having the opportunity to compete against some of the best pre-professional players in the country and from around the world. She said she couldn't think of a better environment to prepare her for the next level than to be trained by Alan Kirkup and take part in the competitive USL W League.
"It's special because I know the amount of effort Michelle Rayner and Alan Kirkup are putting into making a successful team of players and it is such an honor to be among the first W League signings for this team."
—
Kaela Dickerman – Forward/Midfield
Social Media: Twitter, Instagram – kkdick
Hometown: Cedar Rapids, Iowa
Previous Team: Cincinnati Sirens
Dickerman played NCAA soccer at the University of Louisville, starting in all 16 games in 2016 for the Cardinals. She also played for Afturelding (Ungmennafélagið Afturelding) in Iceland, FF Lugano in Switzerland and most recently the Cincinnati Sirens of the Premier Arena Soccer League. Dickerman herself is most excited about training and playing at a high level for the upcoming USLW League season at Lexington. She was excited by the prospect of surrounding herself with other motivated players who are looking at honing their craft daily and seeing the group and club grow from the beginning of their first season until the end, saying it's going to be an incredible journey.
"I'm super grateful to get to continue playing at a competitive level with Lexington SC! After talking with Coach Kirkup, I feel like the club has all the right pieces to be successful, and I'm excited to be a part of that. I can't wait to see how we continue to grow this team prior to the season!"
—
Sarah Gorham – Midfield
Social Media: Instagram – iamsarahgorham
Hometown: Lexington, Ky.
Previous Team: Rayo Vallecano (Spain)
Gorham was at Western Kentucky at the NCAA Division-I level for five years where she scored 10 goals. She also played for Lidköpings FK in Sweden, Nea Salamina Famagusta FC (Nea Salamis) in Cyprus, Santa Teresa CD in Spain and Rayo Vallecano in Spain. Gorham said she is most excited to get to know her new teammates and continue to grow soccer in the Lexington area.
"I grew up playing soccer in Lexington and am excited to get involved with the community here again. I look forward to helping Lexington SC in its first USL W League season as I am always grateful for another opportunity to keep playing the game I love."
—
Tameir Grosvenor – Forward
Social Media: Instagram, Twitter, Snapchat – thetameir
Hometown: Desoto, Texas
Previous Team: Texas Wesleyan Rams (NAIA)
Grosvenor played six seasons for Texas Wesleyan University at the NAIA level of college athletics, starting in every game she played for the Rams and scoring 96 goals. She also played for the Sting and Texans of the Elite Clubs National League. Grosvenor said she is most excited about playing at a higher level than college and being in an unfamiliar place to meet new people.
"It means a lot to be amongst the first USL W League additions for Lexington SC. I'm very excited to meet my teammates. It's such a great opportunity and I am blessed to be on this team. All thanks goes to God."
—
Marz Josephson – Goalkeeper
Social Media: Twitter – Marzjosephson | Instagram – krazykeeper
Hometown: Apex, N.C.
Previous Team: University of Kentucky
Josephson spent four years at the University of North Carolina, playing at the NCAA Division-I level before transferring to Kentucky in the offseason, where she will play in the 2023 Fall season. She also played at Wake FC in the USL. Josephson expressed excitement about her signing, citing great interactions with the club and saying she can't wait to meet the team and staff in person and get to work.
"I am extremely excited to be among the first USL W league signings for Lexington SC. I just moved into the Lexington community and have loved it so far. It's a privilege to be part of the first members of the club's USL W League team and help set the initial foundation for the club to build upon."
—
Kailey Utley – Forward
Social media: Instagram – kaileyutley
Hometown: Saint Louis
Previous Team: Fire & Ice SC (WPSL)
Utley played collegiate soccer at West Virginia University for two seasons, scoring 17 goals for the Mountaineers in 45 starts. After leaving WVU she also played for both Fire & Ice SC and Pacific Northwest SC of the Women's Premier Soccer League (WPSL). Outside of soccer she graduated Optometry School and was a member of the U.S. Army Reserve. Utley is most excited to continue competing with and against high level athletes and to build relationships within the team and community.
"It's an honor and a privilege to have the opportunity to be part of the club and I'm looking forward to serving as a role model for younger female soccer players."
—
Stay tuned throughout the week as more Lexington SC players are announced.
About Lexington Sporting Club
Lexington Sporting Club is a U.S. Soccer professional soccer club competing in USL League One (U.S. Soccer third division men's professional soccer). Launching its inaugural professional season in 2023, the men's first team is the pinnacle of the soccer ecosystem in Lexington that features more than 1,400 players within its youth and academy systems, a pre-professional women's team beginning in 2023 in the USL W League and is in the process of building the club's formal stadium, performance center and training fields.