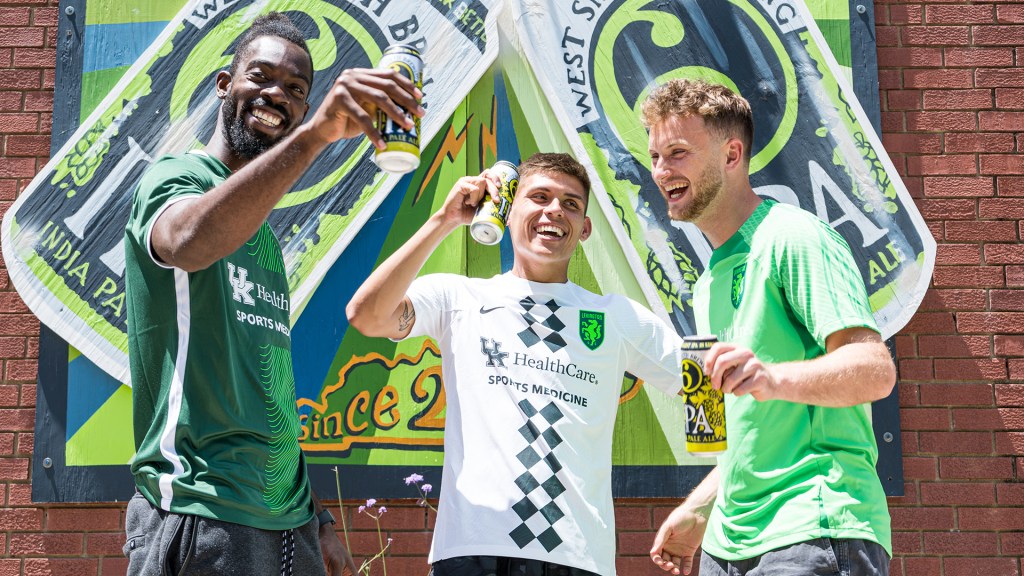 LEXINGTON, Ky. – Lexington Sporting Club has formally announced a new partnership with West Sixth Brewing, one of Kentucky's largest and most established craft breweries.
West Sixth will serve as LSC's official craft beer partner, a collaboration that fits perfectly into the brewery's ongoing commitment to forge meaningful regional and statewide partnerships. The announcement follows recent partnerships with several Kentucky organizations from different parts of the state, including Western Kentucky University.
"We're always looking for ways to support organizations and activities that enrich and improve the quality of life in Lexington and Kentucky as a whole," said Brady Barlow, co-founder of West Sixth Brewing. "The hard work of the LSC founders benefits the entire region, which is something that resonates with the West Sixth mission to always give back to the community."
In a state that has been historically loyal to college basketball, the rise of professional soccer — and partners willing to invest in its success — is an exciting prospect for fans and players alike, as seen in Louisville, Cincinnati and other markets.
"We're overwhelmed by the positive response we've received so far," said Bill Shively, principal owner of LSC. "During a time when soccer is gaining more popularity in the US, it's great to be part of the early rise here in Kentucky, a state with a rich history of embracing sports like basketball and horse racing. Partnering with West Sixth Brewing, which has such a well-known name throughout the state, felt like a natural way to amplify the message and demonstrate our commitment to the community."
West Sixth Brewing will have beers available in the VIP areas of all LSC home games, which are played at Georgetown College, in addition to taproom events during matches.
For more info about West Sixth Brewing, follow them on Instagram at @westsixth or online at https://www.westsixth.com/.
About West Sixth Brewing
Founded in 2012, West Sixth Brewing is an award-winning brewery based in Lexington, Kentucky, operating a taproom in our home city, a farm in Frankfort, a Louisville taproom in the NuLu neighborhood, and a taproom in the Box Park development in Newport, KY. We produce a wide variety of beers that we distribute throughout Kentucky and across the Ohio River in Cincinnati. We're driven by brewing high-quality creative beers, making a positive social impact on the communities we're a part of, and creating an awesome place to work for our team. To learn more about West Sixth Brewing, visit us at www.westsixth.com.
About Lexington Sporting Club
Lexington Sporting Club is a U.S. Soccer professional soccer club competing in USL League One (U.S. Soccer third division men's professional soccer), and in USL Super League (women's professional soccer launching in 2024). The two professional teams are the pinnacle of the soccer ecosystem in Lexington that features more than 1,400 players within its youth and academy systems. Lexington SC in the process of building the club's formal stadium, performance center and training fields.