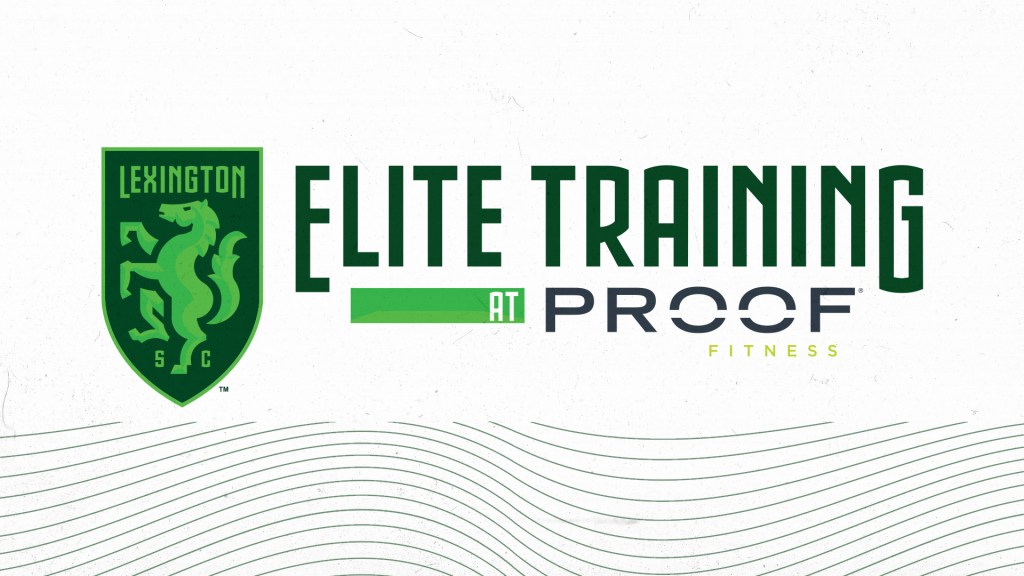 LEXINGTON, Ky. – Continuing its commitment to the development of all players, Lexington Sporting Club has partnered with Proof Fitness, a premier fitness and sports performance destination, to introduce "Elite Training."
"Elite Training" at Proof Fitness is an optional youth training program designed to help increase strength, maximize performance and prevent injury. Lexington SC's pro-level approach, combined with Proof Fitness' world-class facilities and collegiate coaches, will provide training to take every player to the next level.
"I'm excited that these two forces are coming together for the benefit of our youth players in the Lexington soccer community." said Sam Stockley, Lexington Sporting Club's Head Coach and Sporting Director.
The program will help you become a better soccer player and develop as an overall athlete, and is exclusively designed by Lexington SC along with Lindsey Pelfrey, Proof's Director of Sports Performance and a former NCAA Division I soccer student-athlete, and Mark Stephens, Proof's Training Director and former collegiate strength and conditioning coach.
"Elite Training" is optional, but designed for the youth player that wants to put in the additional effort to improve as an athlete. The weekly sessions are an hour long and will be grouped by age level and hosted at the Proof Fitness West Main location.
Open enrollment for Lexington Sporting Club's "Elite Training" at Proof Fitness starts soon. Spots are limited. The first session will be free, with a fee of $15 per player for each session to follow.
More information about Proof Fitness can be found here.
Follow Lexington Sporting Club on Twitter, Instagram and Facebook, and learn more online at www.lexsporting.com.
About Lexington Sporting Club
Lexington Sporting Club is a U.S. Soccer professional soccer club competing in USL League One (U.S. Soccer Third Division Men's Professional Soccer League). Launching its inaugural professional season in 2023, the professional team is the pinnacle of the soccer eco-system in Lexington and features more than 1,400 players within its youth and academy systems, a pre-professional women's team beginning in 2023 in the USL W League and is in the process of building the club's formal stadium, performance center and training fields.