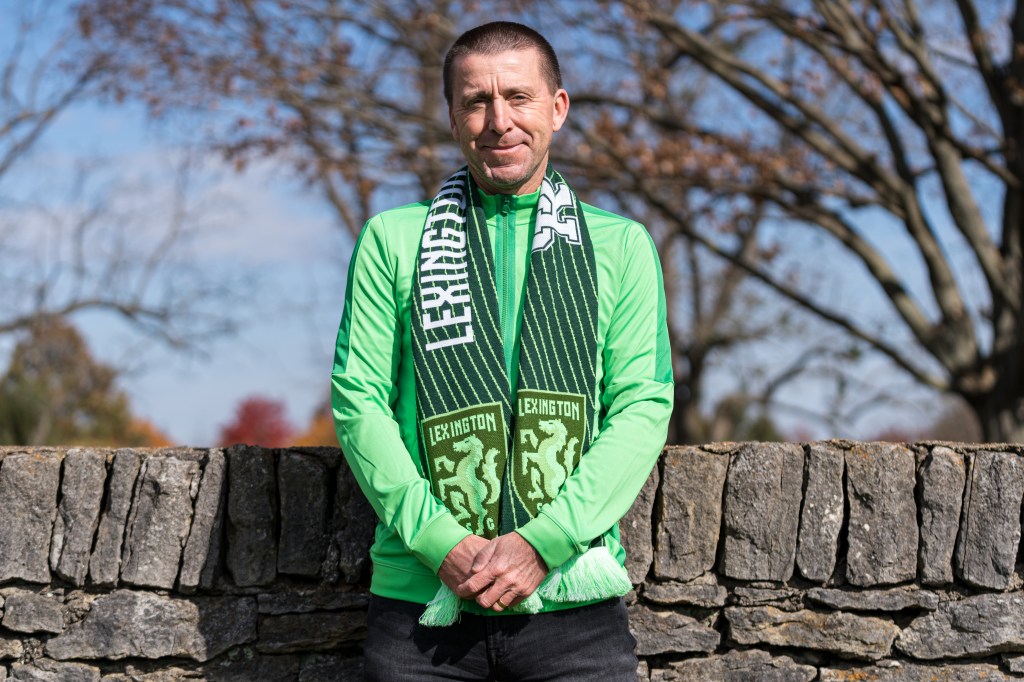 LEXINGTON, Ky. – Lexington Sporting Club announced today that Darren Powell has been appointed as head coach for the Men's USL League One team entering the club's second season. Hailing from Nottingham, England, Powell brings a depth of coaching experience to the club.
Powell comes to Lexington SC as a veteran in his sport, most recently serving as the Director of Player Development and First Team Assistant Coach at Major League Soccer's (MLS) Inter Miami CF. Previously, Powell was the head coach of Fort Lauderdale CF USL League One (2021), as well as the Inter Miami CF II Head Coach in the MLS Next Pro (2022).
"[Darren is an] Outstanding coach and an even better person who has great experience of building rosters and coaching successful teams. Lexington SC is very lucky to have him!" said former Inter Miami CF head coach Phil Neville.
Prior to his time with Inter Miami CF, Powell coached in multiple spots. He joined San Antonio FC (2016-2019) as head coach where he was head coach in the USL Championship from its inception, making the USL playoffs in 2017. He also spent time at Orlando City SC (2014-2016), serving as the Academy Director.
Additionally, Powell spent time as the head coach of Elon University (2005-2014), where he was inducted into the Elon Hall of Fame as the most successful men's soccer coach in school history. Prior to Elon, Powell was assistant coach at UNC Greensboro (2001-2004) and then head coach of Greensboro College (1998-2001).
Powell comes to Lexington after the completion of Lexington SC's inaugural professional season with the USL League One. Powell is excited about how the club is growing and the opportunities that lie ahead.
"I am really grateful and thankful for the opportunity. I would like to thank Bill Shively, Stephen Dawahare and Sam Stockley for the process and the support they have given me. I am very grateful for the opportunity they have provided," said Powell. "We are really excited to be in Lexington and looking forward to meeting with the players. We have been meeting with the staff and getting to know them, and everyone has been super welcoming. Soon, we can meet with the fans and engage with the supporters that seem very passionate about Lexington soccer and obviously want to grow that support during the coming months. Very grateful for the fans we have and the support we've been given and looking forward to meeting them."
Lexington SC is excited to welcome Powell to the team and is ready to get to work and start looking toward the 2024 USL League One season.
"He's got all the key attributes to be able to develop us and move us forward," Men's Sporting Director Sam Stockley said. "He's going to help develop everybody within the football club, and that's what we're looking for. Darren fits our culture of who we are and what we are trying to do with our identity, but also have that ability to push us forward."
Lexington Sporting Club continues to build momentum and excitement for its second season, with the addition of Powell as Head Coach following the announcement of the new stadium to open in the summer of 2024 and its new Super League women's professional team, Lexington's professional franchise continues to build for the future.
About Lexington Sporting Club
Lexington Sporting Club is a U.S. Soccer professional soccer club competing in USL League One (U.S. Soccer third division men's professional soccer), and in USL Super League (women's professional soccer launching in 2024). The two professional teams are the pinnacle of the soccer ecosystem in Lexington that features more than 1,400 players within its youth and academy systems. Lexington SC in the process of building the club's formal stadium, performance center and training fields.