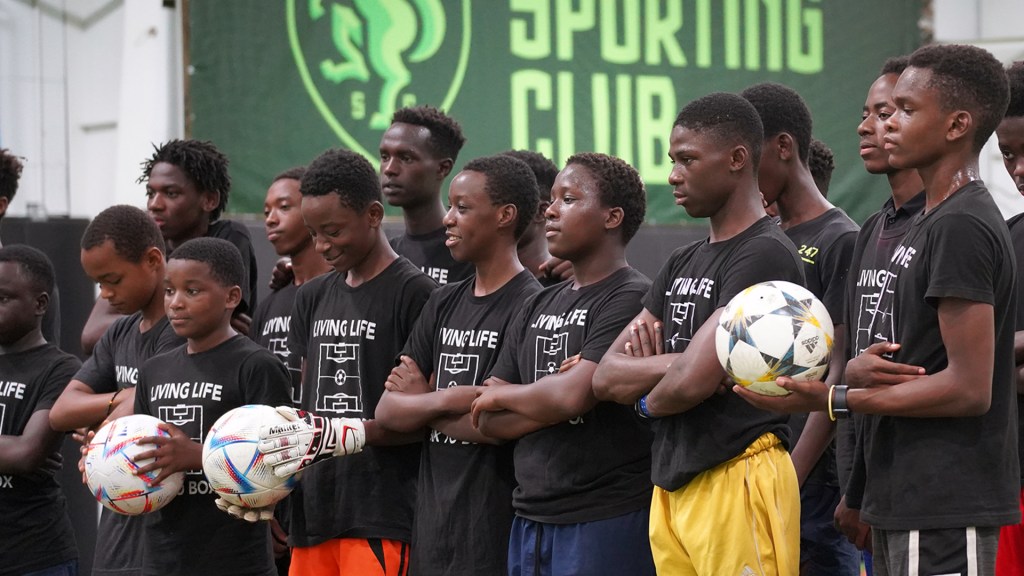 LEXINGTON, Ky. – Lexington Sporting Club announced today a partnership with Box2Box, an organization that works with refugees and new American students through sports and leadership development.
Box2Box provides "a unique environment that merges academic support through English proficiency; holistic, trauma-informed support; the confidence and socio-emotional skills to navigate a new culture and country; and a community wholly invested in each student through Middle School, High School, College and beyond."
A primary vehicle for Box2Box is the sport of soccer, with emphasis on sportsmanship, team building, positivity and discipline.
The organization "was founded on a simple idea; meet kids where they are, go directly to their passion. In this case, meet them on the soccer field, then support them through consistent mentoring and academic tutoring. Soccer engages, while mentorship and a sense of belonging pushes kids toward their potential and beyond."
Lexington Sporting Club will be supporting two Box2Box soccer teams (U15 and U19), including registration costs, uniforms, facility access and coaching curriculum.
"As a community-based organization, Lexington Sporting Club is tremendously proud to partner with Box2Box," said Sam Stockley, Sporting Director. "Box2Box focuses on young people who arrive to central Kentucky as refugees and supports them through an after school and mentoring program."
Stockley continued: "The partnership with Lexington Sporting Club will remove significant financial barriers as well as extremely limited access to equipment and facilities for these young people, allowing them to enjoy and thrive in the sport of soccer. Both organizations see this as a first step in a wonderfully symbiotic relationship within our soccer community of two groups with congruent missions."
Phil Manga, the founder of Box2Box, played in the former Lexington Football Club and has used his own experiences to mentor the kids within the program.
"For us immigrants and refugees, and folks that came from a different country, soccer is that one place where we can find the community," Manga said. "Of course, we've all experienced a lot in life, you know, through our life experiences, which is also something that, in my opinion, tends to bring us together … We want to give them identity. And for them to understand that just because you come from a different country, or you come from a different place, it doesn't qualify your level of intelligence, it's just your circumstance.
"We hope that this partnership can last longer can be a sustainable partnership where our students can have access to opportunity, not only access to opportunities from soccer."
Manga's full video interview can be seen here.
Box2Box will be hosting their Lasso Your Dreams Fundraiser August 18 from 6-9 p.m. Click here to learn more about the event and how to get involved.
More information about Box2Box can be found here, and fans can follow them on Instagram.
Follow Lexington Sporting Club on Twitter, Instagram and Facebook, and visit the Club's website here.