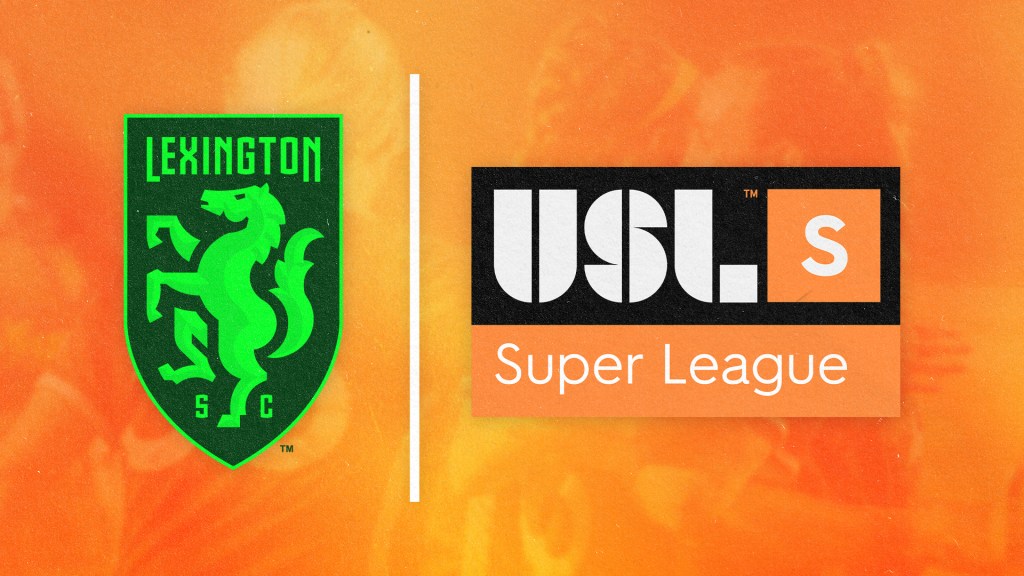 LEXINGTON, Ky. – Lexington Sporting Club is excited to officially announce its intent to bring professional women's soccer to central Kentucky.
Led by Lexington Sporting Club owner Bill Shively and his wife, Donna Shively, along with business partner Stephen Dawahare, Lexington Sporting Club was announced today as one of the initial markets launching the USL Super League in 2024.
Inclusion in the Super League—which intends to launch as a first division women's professional league—will realize the club's ambition to provide the full women's soccer pathway, including a USL Academy team and a USL W League team. As part of its commitment to providing the best experience for the community, the club is currently working to bring a 6,500-seat stadium and a training and medical complex to the Commonwealth.
Today's announcement includes the initial eight teams set to compete in 2024. Lexington joins Charlotte, Dallas/Fort Worth, Phoenix, Spokane, Tampa, Tucson, and Washington D.C. for the inaugural season. Following the 2024 campaign, the USL Super League will strategically expand its national footprint.
"Joining the USL Super League is one of the more significant milestones in Lexington Sporting Club's history, since it allows us to have the pinnacle atop our integrated female pathway," Dawahare said. "We have heavily invested in the female side of our sporting operations because we want the same opportunities to exist for women and men. Through elite platforms such as the USL W League, USL Academy and Girls Academy, to name a few, we've built a robust pathway for our players."
The USL Super League will provide a differentiated experience that includes playing on the international calendar and operating a connected women's pathway from youth to professional—a pathway which Lexington SC has already developed. The "fall-to-summer" calendar—unique in American soccer—aligns the Super League with the global game and prioritizes player welfare and performance.
The youth-to-pro pathway offers Super League teams an efficient way to identify and develop elite talent. Lexington SC is already participating in this pathway with female teams competing in elite platforms, including the pre-professional USL W League.
"We're excited to share the initial group of USL Super League markets that will bring professional women's soccer closer to home for fans and players across America," said USL Super League President Amanda Vandervort. "Our aim is to significantly expand opportunities in women's soccer through strategic growth, build a pathway that connects talent with opportunity, and engage communities by celebrating a universal passion for the game expressed through local culture."
Lexington SC continues to develop its state-of-the-art training complex at Athens Boonesboro Road, and will build its own stadium that will serve as the home for its two professional teams.
"When you look at the totality of Lexington Sporting Club, you'll see an organization that is fully committed to player welfare, community support, fan engagement, and, ultimately, excellence at all levels," Dawahare said. "We couldn't be happier to be part of the Super League's initial season and can't wait to share this with our current supporters and, hopefully, bring in new fans throughout the process."
The Club is planning an in-market celebration to commemorate the Super League's launch in the coming weeks. Fans may place season ticket deposits for $25 HERE, as well as sign-up HERE for future news notifications.
In the meantime, fans can catch Lexington's pre-professional women's squad at home this Sunday, May 21, for a 4 p.m. match against Indy Eleven at Toyota Stadium.
USL Super League Quick Facts
The USL Super League is a women's professional soccer league beginning in 2024, with the intent to compete within the first division of women's soccer.
The competition schedule aligns with the women's international soccer calendar, with the season beginning in August, taking a winter break, and ending with playoffs the following June.
This will be the top of the female player pathway in Lexington, above the pre-professional USL W League (which is currently in-season).
There will be 10-12 teams competing in the inaugural 2024 season, and the first announced markets are Charlotte, N.C., Dallas/Fort Worth, Lexington, Phoenix, Spokane, Wash., Tampa, Fla., Tucson, Ariz., and Washington D.C.
Multiple expansion teams are confirmed to join the league upon completion of their stadium and infrastructure projects, including Chattanooga, Tenn., Indianapolis, Jacksonville, Fla., Madison, Wis., and Oakland, Calif.
About Lexington Sporting Club
Lexington Sporting Club is a U.S. Soccer professional soccer club competing in USL League One (U.S. Soccer third division men's professional soccer), and in USL Super League (women's professional soccer launching in 2024). The two professional teams are the pinnacle of the soccer ecosystem in Lexington that features more than 1,400 players within its youth and academy systems. Lexington SC in the process of building the club's formal stadium, performance center and training fields.