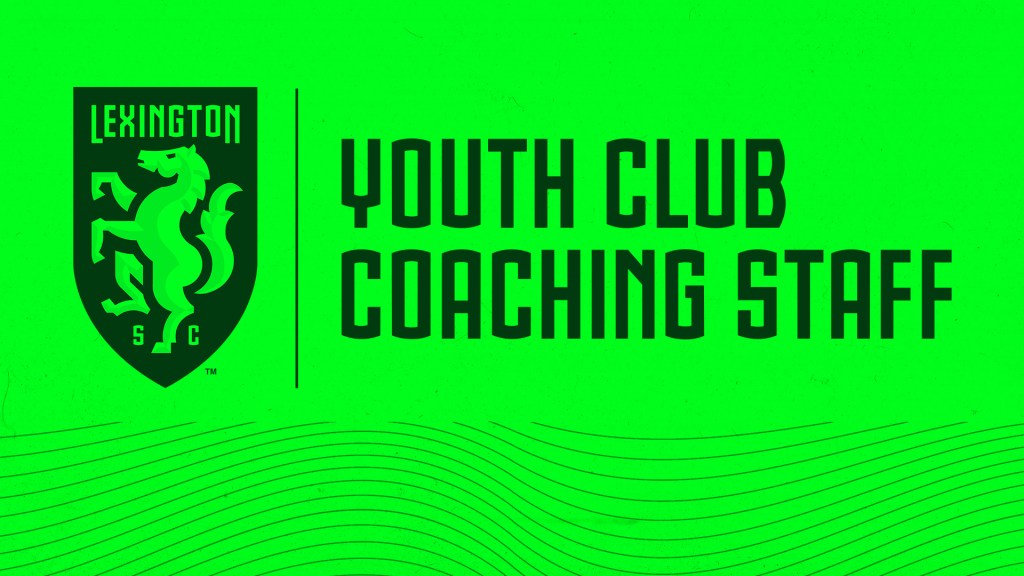 LEXINGTON, Ky. – Lexington Sporting Club revealed its coaching list this evening, featuring talented individuals from the former Lexington Football Club (LFC) and Commonwealth Soccer Club (CSC), as well as newcomers to the program.
Coaches will be placed within an age group inside a phase of the player pathway model, with specific team assignments still to be determined following the Talent ID process.
"This has been a monumental effort since arriving full time in Lexington, and I would personally like to thank all the coaches I have spoken too," said Sam Stockley, Sporting Director. "The youth program is the foundation of our club, and after speaking with over a hundred coaches in the past three months, I'm ecstatic that we can finally release the final list for our inaugural season starting this upcoming August.
"There is so much excitement around the city and we are humbled by all the support shown by our community. Our goal is to win championships with both our male and female professional teams with up to 70 percent home-grown players, and every coach in our club has a part to play in that. We also understand that not all players will reach the professional team, which is why our program reflects the same level of coaching commitment through all four phases of the player pathway model. We are fully committed to providing a pathway for all players."
Below is the list of head and assistant coaches, categorized alphabetically by age group. There are intentional gaps in the coaching list to leave room for continued growth. Those coaches, along with the Lexington Sporting Club goalkeeping coaching staff, will be announced in the coming months.
GIRLS
Skill Acquisition Phase
U7/U8
Mia Arias
Meghan Borough
Alex Byrne
TBA
U9
Pete Akatsa
Steve Fugmann
Chris Teesdale
TBA
U10
Marcus Aldaba
Sean McDaniel
Cary Tsamas
TBA
Technical Refinement Phase
U11
Kristian Junker
Sean Mondelli
Tommy Poland
TBA
U12
Tim Bernardi
Kim Grote
Scott Lowery
Tom Morgan
Grace Rineer
Preparation Phase
U13
Paul Garcia
Natalie Francis
TBA
TBA
U14
Bo Lankster
Morgan Proffitt
Audrey Rawls
Matt Smith
Shanda Toadvine
TBA
U15
Cameron Davis
Louis Jones
Jeff Stone
TBA
Pathway to Pro Phase
U16
Stephanie Durbin
Steve Nash
Jared Roden
Taylor Roden
Larry Waldrop
U17
Sol Forsythe
Ashley Reinecke
Hayden Warren
U18/19
Megan Skinner
TBA
BOYS
Skill Acquisition Phase
U7/U8
Chad Calderone
Eddy Irumva
TBA
TBA
TBA
U9
Tim Jenkins
Bob Peddenpohl
Jairus Rossi
TBA
TBA
U10
Brendan O'Farrell
Oscar Portillo
Marty Tappel
Russ White
TBA
Technical Refinement Phase
U11
Mason Anderson
Toby Anderson
Gavin Colton
(Two spots open)
U12
Brent Chase
Mike McKinney
Walt Ridener
Preparation Phase
U13
Mike Butler
Sean Endicot
Robert Kemper
Phil Lee
Rob Lyons
Alex Moody
Brett Morris
U14
Michelle Rayner
Jack Hayden
Alex Shkraba
Dee West
Logan Wiley
U15
Todd Bretz
Mike Donnelly
William Wester
Pathway to Pro Phase
U16
Chi Chau
Drew Grisham
Matt Melzer
David Ritchie
Tony Starks
U17
Ben Federici
Nick Vogler
Chandler Ware
U18
Adam Witt
U19
Chad Calderone
Diego d'Angelo