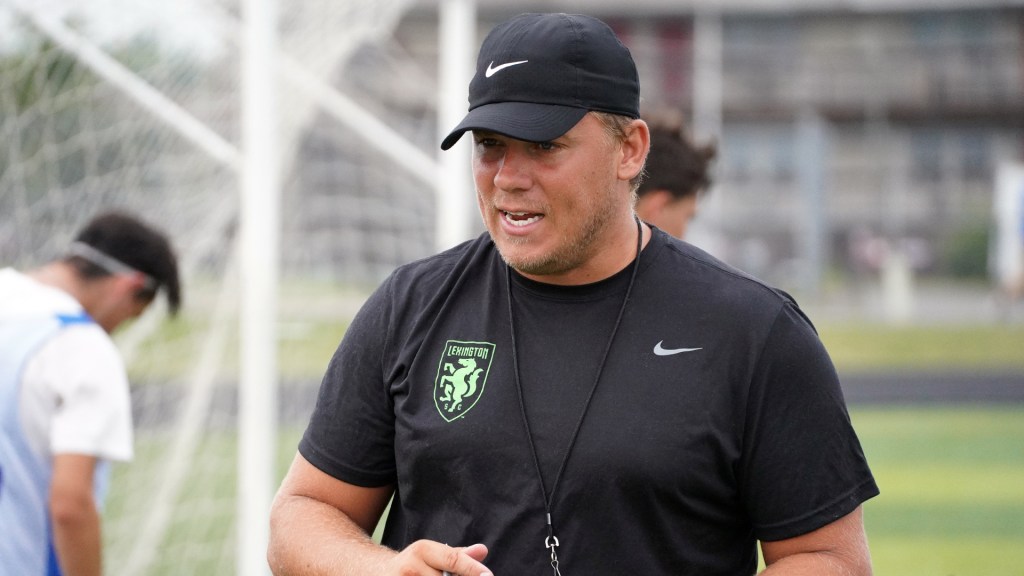 LEXINGTON, Ky. – Lexington Sporting Club is naming Sam Brooks the Associate Head Coach for the United Soccer League (USL) Academy team, it was announced today.
The USL Academy is a pre-professional league that is central to the USL's player development model.
A native of Solihull, England, Brooks has coached at the collegiate level for six years following a playing career that included stops in the Premier Development League—now USL League Two.
Brooks currently serves as an assistant coach at the University of Kentucky, his alma mater. Most recently, he helped the Wildcats claim the program's second Conference USA Tournament title and a trip to the NCAA Sweet 16 in 2021.
Prior to his return to Lexington, Brooks was an assistant coach at Northern Kentucky from 2018-20. He helped guide the Norse to a banner year in 2020, winning the Horizon League regular season championship and the program's first appearance in the United Soccer Coaches Top 25. His coaching career began as an assistant at Centre College in Danville, Ky., in 2017.
"We are extremely excited to welcome Sam as our Associate Head Coach for our USL Academy team," said Sam Stockley, Sporting Director. "After spending time with Sam chatting about football and player development, it became apparent very quickly he would be a brilliant addition to our coaching family.
"His knowledge and expertise of the local, national and international player pool will be a huge asset as we start to build our USL Academy squad. Sam grew up playing in an academy system in England and has since expanded his experience to include competing and coaching at the collegiate level here in America, all of which will be a huge asset to our pre-professional players."
Brooks' collegiate playing career began at Cumberlands at the NAIA level before he transferred to play his final two seasons at UK, where he appeared in 34 of 39 matches. He then spent several seasons competing in the Premier Development League before picking up a whistle.
"I am looking forward to getting started with this group of players," Brooks said. "It is such an exciting time in Lexington, for our players to have the opportunity to play at the USL Academy level is only going to help raise the talent in the area."
Stockley added: "Creating an environment where players know they will improve and have a legitimate chance of playing in our first team is of utmost importance—it is vital to our development model as our goal is to win championships with up to 70% homegrown players."
Launched in 2021, the USL Academy is an "elite youth platform for clubs to develop a more clearly defined path for top youth prospects in their area to reach the professional level and sign directly with their senior team while improving local quality and community."
Lexington Sporting Club will compete in the East-Central Division for the upcoming USL Academy season, which features Louisville City FC, Indy Eleven and Pittsburgh Riverhounds SC of the USL Championship, and Cleveland Force SC of League Two.
The USL Academy season schedule will be announced in the coming weeks.
WHAT OTHERS ARE SAYING
Johan Cedergren, University of Kentucky Head Coach
"Congratulations to Coach Brooks on earning this opportunity with Lexington Sporting Club. We look forward to seeing his successes and accomplishments in this opportunity. Coach Brooks has played an important part in our success at Kentucky in his time on our staff. He is great at connecting with young people and helping them work to attain their goals as soccer players and develop as people."
Chase Wileman, Brown University Head Coach
"I'm very happy for Sam and Lexington Sporting Club. He will have a huge impact on the development of these players on and off the field. Excellent hire!"
Jeb Burch, Centre College Head Coach
"Sam joined our program during an important period as we were refining our approach to how we wanted to play a game. Sam easily made personal connections with our players which made him a very effective coach in training and games. His insight and understanding of player development was a real positive for our program and we use many of the ideas Sam brought to Centre still to this day."
Follow Lexington Sporting Club on Twitter, Instagram and Facebook, and learn more about the club's USL Academy model here.